2010s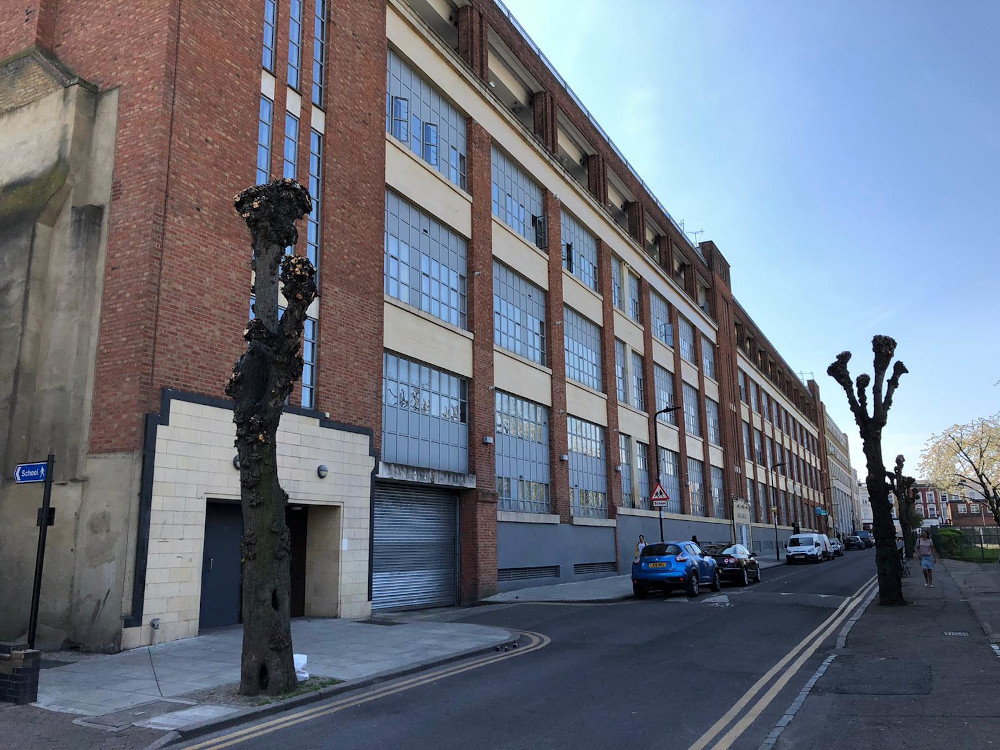 Residents in Olympic House and Simpson House on Somerford Grove in Hackney get together on WhatsApp, Facebook and in person to form residents associations.
---
30 March 2020
Residents in the Simpson House WhatsApp group had been talking about loosing jobs, contracts and income. A group got together to write a letter to their agent – Tower Quay – asking for a 20% reduction in rent during the pandemic while maintenance was not being carried out, and asking for a guarantee that no one should be evicted during the pandemic.
We are facing a worldwide crisis. Many of us have had our incomes cut, lost jobs, had our hours reduced and lost freelance projects. The ongoing government measures mean that maintenance is not being carried out in our flats. We are trying to support each other, but need your help as well. We all need a roof over our heads at this time, and we appreciate that you need to continue paying staff and costs.

Somerford Grove Residents in an email to Tower Quay on 30 March 2020
---
1 April 2020
Tower Quay replied to say there would be no blanket reduction.
On the same day we joined forces with the tenants in Olympic House and St John's Court and added more signatures to the original letter.
We replied telling them we were working together.
It is not for the landlord to bear the 20% burden through this process. The landlord also has its own ongoing financial commitments, together with the landlord's own financial covenants with its bankers which need to be maintained.

Tower Quay in reply to Somerford Grove Renters on 1 April 2020
---
7 April 2020
We investigated the corporate structure in an attempt to contact the landlord and found that there were three different companies listed on the tenancies of every member whose lease we examined: Simpson House 3, Reverie Estates SR, and Somerford Assets 3.
All three companies are majority owned by the Monaco-based billionaire property developer John Christodoulou. John sent a tweet at the end of the week: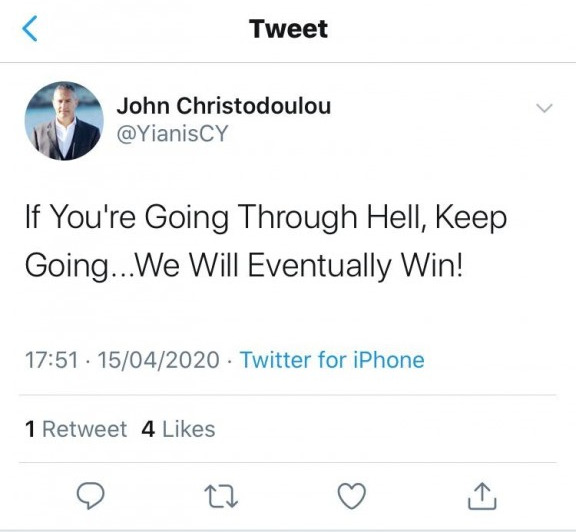 14 April 2020
Tower Quay sent another reply telling us there would be no rent reduction and that we could use the money we saved on lunches to pay our rent in full. By this point our letter had been signed by 111 people from the 170 flats in and around Somerford Grove.
in most cases we believe the impact on disposable income will be minimal, and there is therefore no justification for any reduction in rent, especially considering that whilst tenants are isolating the wear and tear in properties is increasing, which will be at the cost of the landlord

Tower Quay, John Christodoulou's agent
---
19 April 2020
Groups of up to 40 of us had been meeting weekly on Zoom. In this week's meeting we discussed how disappointed and inadequate we found the response and what we wanted out of a discussion with the landlord. We had decided to start working with the London Renters Union and voted to become a group within the LRU – Somerford Grove Renters.
---
21 April 2020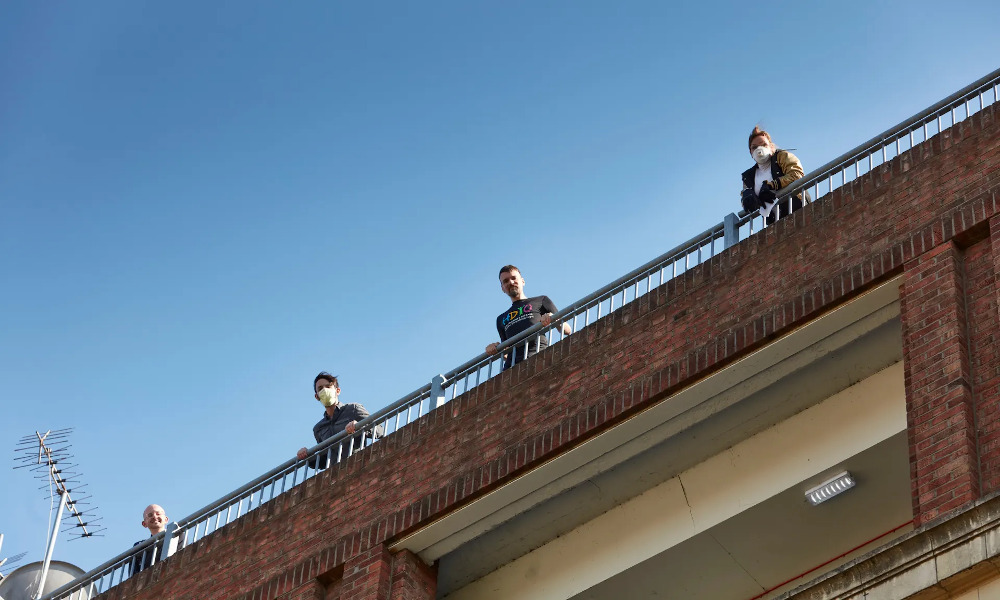 The Guardian picked up on the story and wrote an article that explained how Monaco based billionaire John Christodoulou controlled the flats through a series of companies.
The Guardian – Aamna Mohdin
The spokesperson apologised if tenants thought remarks on money saved on lunches and cancelled holidays were insensitive, but added: "Based on discussions with other tenants we believe, in good faith, that these comments are true."

Tower Quay, talking to The Guardian
---
21-7 April 2020
Harassment of tenants followed the publication of The Guardian article.
Several tenants received anonymous phone calls on the evening of publication. One, who answered, was addressed by name, informed that she was speaking to the landlord's solicitor, and told that she would be 'held liable for damage to the flat or the landlord's reputation'.
Security was increased at the building and residents were photographed and filmed, some inside their flats. One guard told a resident that they had been asked to report back on residents' activity by Tower Quay.
Tower Quay obtained access to messages in the residents WhatsApp group and sent these messages, unlawfully, to The Guardian – apparently in a misguided attempt to prevent them running the story. Tower Quay admitted this through their lawyers in a letter to residents.
Tenants emailing were told in replies that Tower Quay were aware they had signed the group letter.
A WhatsApp group was set up by someone falsely claiming to be a resident with information about members that only Tower Quay or the landlord could have known. The 'information' seemed to be that members were paying their rent (they had never claimed otherwise). These members continued just to ask Tower Quay and the landlord to come and talk to the group to help people in the building who were struggling.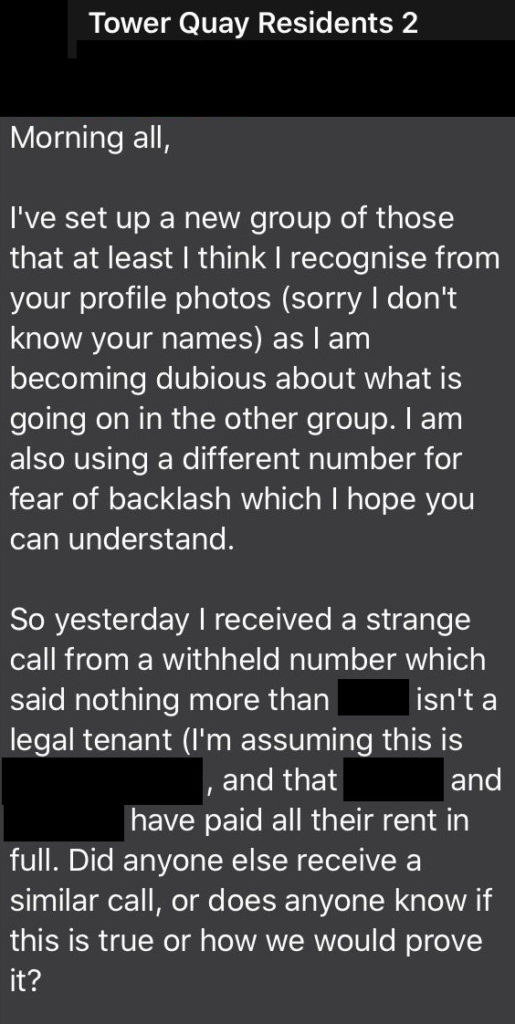 The residents added to the group quickly called out the faker: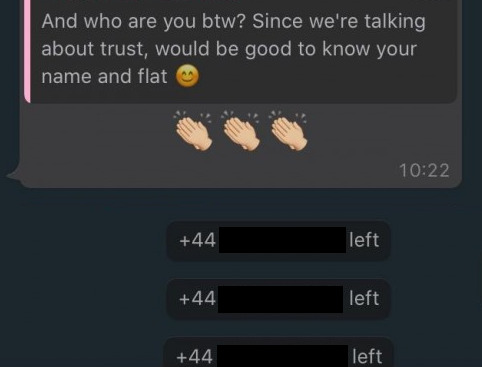 ---
22 April 2020
More media coverage about the response of Tower Quay and the landlord:
Independent – Ben Chapman
Metro – Faye Brown
Mail Online – Sebastian Murphy-bates and Amie Gordon
---
23 April 2020
Sadiq Kahn, the mayor of London tweeted The Guardian story in support of us:
---
24 April 2020
The Hackney Gazette wrote about us and Vice provided some commentary:
Hackney Gazette – Sam Gelder
Vice – NEO
---
25 April 2020
Tower Quay continued to refuse to help tenants who wrote individually. At best they offered a 20% deferral for 2 months followed by a 120% rent payment for the 2 months after – sending tenants into unsustainable debt.
The 20% figure only appeared after the group had written asking for a 20% discount. They did, however, back down on some rent increases they had sent in March and April.
---
27 April 2020
At least 12 residents received letters threatening legal action from the firm Spector Constant & Williams using procurement to breach contract – a law that says you may be held responsible if someone else doesn't pay their rent. Tower Quay were now not only refusing to meet to negotiate, they were threatening their tenants with lawsuits.
Our client has instructed us that you have been engaged in activities encouraging tenants not to pay their rent (even where the tenants can afford to do so). Our client is sympathetic to the financial hardship being caused to some by the covid-19 pandemic. Although the government have taken temporary action to assist tenants affected by the pandemic tenants are still contractually obliged to pay rent to the landlord. That rent should be paid in full and on time. If individual tenants have situations where they are genuinely adversely financially affected by the pandemic which has resulted in them not being able to pay the rent in full and on time, then they can, on an on individual basis, discuss the situation with our client as has already been outlined to you by our client. Our client takes a dim view of your actions because they consider that your actions seek to procure tenants to breach their contract with the landlord. Our client has instructed us that if you do not immediately cease your actions then we will be instructed to pursue you through the courts not only for your outstanding rent but for damages arising from those that you have procured to breach their contract. You will also be liable for legal costs and interest as well as the damages .

Sample letter on behalf of Tower Quay, John Christodoulou's agent
---
23-29 April 2020
More media coverage followed:
23 April 2020 – Landlord Today – Marc Da Silva
23 April 2020 – The Negotiator – Nigel Lewis
28 April 2020 – Vice – Ruby Lott-Lavigna
29 April 2020 – Twitter @joelycett – Joe Lycett
---
23 April 2020
Diane Abbott, our MP, spoke out:
---
July – August 2020
Media coverage continued:
27 July 2020 – The Huffington Post – Léonie Chao-Fong and Graeme Demianyk
30 July 2020 – Hackney Citizen – Ed Sheridan
13 August 2020 – Dazed – Brit Dawson
20 August 2020 – The Independent – May Bulman
25 August 2020 – Hackney Citizen – Ed Sheridan
---
21 July 2020
A household with two members who had remained vocal in asking Tower Quay and John Christodoulou to come and talk to us despite the legal threats received a no-fault eviction notice telling them to leave on 21 September. This is a Section 21 eviction that the government, along with all other major parties, promised to remove in their manifesto at the last election.
[the landlord is] entitled to recover the property as you know on a no fault basis

Tower Quay via email
---
28 July 2020
Philip Glanville, The Mayor Of Hackney, wrote a letter of support.
However in this instance it is clear to me that this action is a direct response to your tenants seeking greater security for themselves and their neighbours at a time of crisis– exactly the type of revenge eviction that we do not accept in Hackney

Mayor Glanville
---
28-31 July 2020
More media coverage followed:
Vice – Michael Segalov
Novara Media – Sophie Hemery
---
12 August 2020
Hackney Council started an investigation into Tower Quay and the landlord.
---
15 August 2020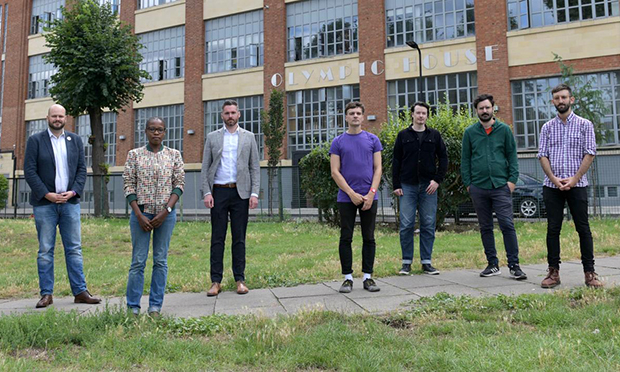 Tom Copley (Deputy Mayor of London), Philip Glanville (The Mayor of Hackney) and Sem Moema (Mayoral Advisor for Private Renting) visited Somerford Grove and met with some of our members.
26 August 2020 – LandlordZONE – Helen Gregory
This case highlights the inherent power imbalance within the private rented sector in this country between landlords and tenants. The fact that landlords can for no reason simply choose to evict tenants who have been paying their rent, make them homeless, in what looks like a classic case of revenge eviction, I don't think it's right.

"It highlights the pressing need for the government to do what they promised they would do, which is to abolish no-fault evictions, but also carry out much wider reform of the private rented sector.

"[Mr Christodoulou] is an absent landlord. As far as I understand it he is a billionaire who lives in Monaco. The agents are behaving wrongly. This is not the way to engage with tenants.

Tom Copley, Sadiq Khan's Deputy Mayor for Housing
---
21-2 August 2020
BBC One ran a story in the 6pm news and published an article on their website
Marc and Jordan were on BBC Five Live:
---
21 August 2020
The government announced a last minute month-long extension to the eviction ban taking the reopening of courts to hear evictions to 20 September 2020. Marc and Jordan's eviction – along with their housemates – is scheduled for 21 September 2020.
---
27 August 2020
The New Stateman's CityMetric did a piece on billionaire landlords across Europe – including John Christodoulou and Deutsche Welle did a segment on our treatment during lockdown. Listen from 26 minutes:
DW – Matthew Ponsford
CityMetric – Matthew Ponsford
---
18 September 2020
After months of campaigning we were finally able to talk to someone representing the landlord. Ali Zarmani, the director of the Tower Quay agency we sign contracts with, met with members of the Somerford Grove Residents for a meeting in Evin Cafe on the high street. We talked for over an hour. Ali told us Tower Quay represents all of the landlord's flats of which that are over 700. He told us their reputation is in tatters. He told us the landlord is trying to evict Jordan and Marc's household – "he doesn't want you in the flat" – for getting national press about the case. He asked why we were doing that and we told him "we're not doing this for fun, we want you to work with us to keep people safe in their homes". We negotiated on four points we thought were reasonable to discuss including meeting regularly, fixing maintenance problems, apologising for threatening legal actions against his tenants and then dealing with rent debt and relief. Ali seemed to understand our points, negotiated on the first two points but said he had to go back to the landlord for the others.
Unfortunately, we got an email later that day saying they would do nothing more than the bare minimum required by the law and saying the meeting had been confidential. We had not agreed to that as a condition. The email did not represent a good faith attempt to resolve the dispute so it was not a without prejudice meeting. We reached out twice more asking for another meeting but didn't hear anything so are setting out what happened at the meeting for our residents and the public to understand.
---
21 September 2020
We didn't hear anything more from the landlord and the email did not represent an offer of anything beyond the landlord's legal responsibilities so residents unanimously decided to continue the campaign.
We held a demonstration outside one of John Christodoulou's Canary Wharf hotels – the Canary Riverside Plaza – and Tower Quay's office, attended by over 70 residents and supporters including Apsana Begum MP. The demonstration featured on Sky evening news and a variety of other local and international outlets.
We were unexpectedly joined by leaseholders in the adjacent building who were also unhappy with Mr Christodoulou's treatment of them. Many residents and supporters made selfie's saying "Happy Not Moving Out Day" to celebrate Jordan and Marc successfully resisting the eviction attempt that would have seen them have to leave on this day. Shouts of "Shame on you, John Christdoulou" were heard by the enthusiastic and supportive crowd.
Hackney Citizen coverage of the picket
Sky video from Momentum https://twitter.com/i/status/1308143381592276992
Video documentary of the demonstration
---
01 October 2020
Hackney Council confirmed to us that the landlord is not licensed and that he requires a license for at least eight flats in Simpson House and probably more in the other buildings. The council will be bringing a case against John Christodoulou's companies that could result in a penalty of £100,000 or more. John Christodoulou is one of the largest private landlords in the UK and yet he is failing the bare minimum standards required by the law to make property habitable.
---
23 October 2020
Somerford Grove Renters had a Zoom meeting with our MP, Diane Abbott. Ms Abbott who has been following and supporting our struggle listened to our individual and collective stories. She was horrified to hear stories of what we have been subjected to and told us she supports our campaign. She also had some brilliant ideas for how we can continue to negotiate with the landlord.
---
9 November 2020
Diane Abbott MP files an early day motion in parliament saying "renters in Somerford Grove have not had support and understanding from John Christodoulou" and "far from entering into negotiations, residents have been harassed and spied on; calls on landlords nationwide to negotiate with tenants experiencing income fluctuations because of the covid-19 pandemic".
---
10 November 2020
All tennents receive a letter from Diane Abbott MP for Hackney North and Stoke Newington supporting SGR and those that have been adversely affected by the pandemic. Her letter can be found here in full.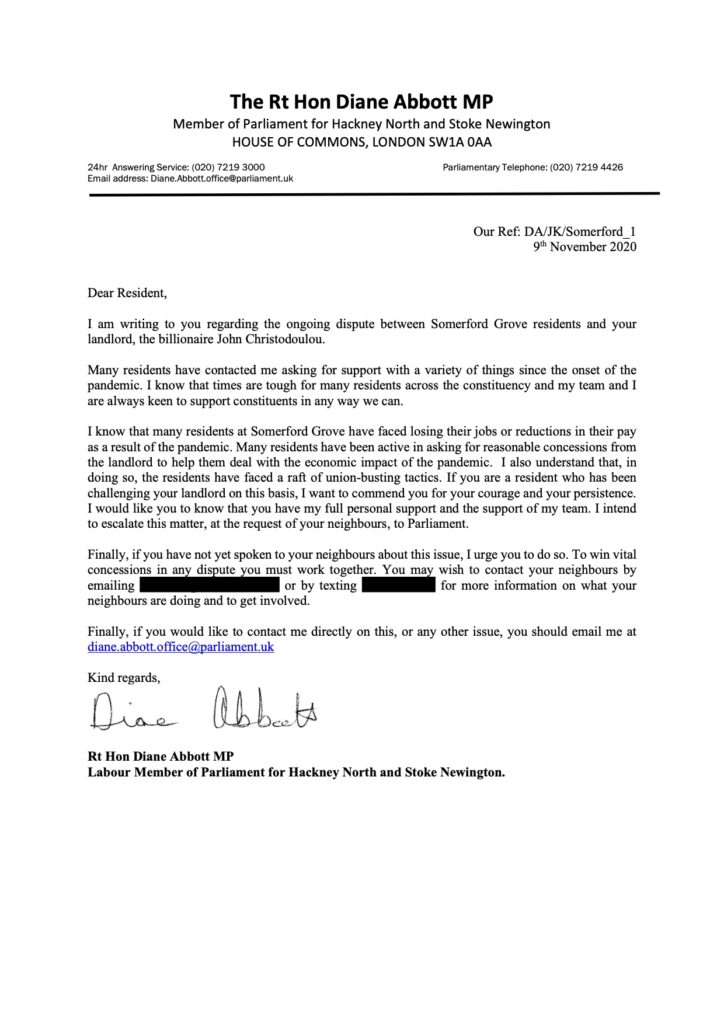 ---
16 November 2020
Jordan is interviewed on BBC Radio London's Drivetime with Eddie Nestor
---
19 November 2020
The household of organisers who were served a section 21 revenge eviction have had their notice formally withdrawn. We will keep fighting until all eviction threats are dropped and all tenants have safety and security.
---
1 December 2020
Some of our members have an article published in Tribune about the power of tenants organising.
Tribune
---
21 July 2021
Members of Somerford Grove Renters win £18,420.96 in court for the landlord's failure to obtain an HMO license. There were over 40 flats that needed licenses but were unlicensed for years in the Simpson House, Olympic House and St John's Court buildings. After SGR members brought the failure to the attention of the council the landlord began work to add new fire detectors and rewire the electrics in the flat.
Following this victory many other flats will be taking the landlord to court.
---
22 July 2021
Rivkah Brown covered the win writing for Novara Media:
---
22 July 2021
Read our press release about the court victory at https://somerfordgroverenters.com/press
---
13 August 2021
Marc and Jordan were interviewed on BBC Radio 4's You and Yours:
---
28 April 2021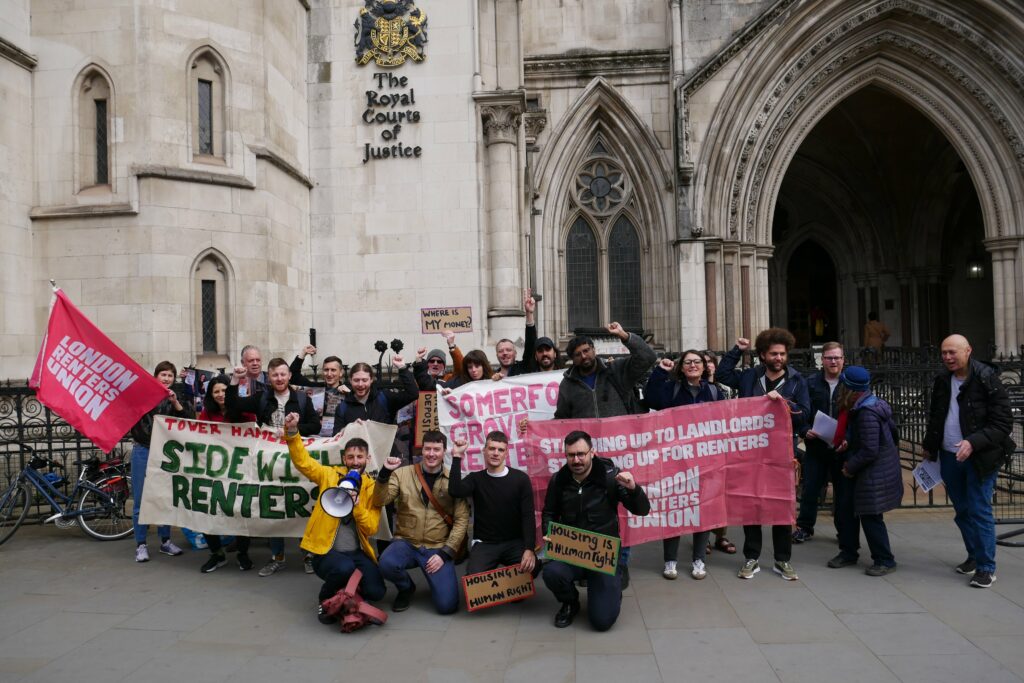 We held a demo outside the Royal Courts of Justice before attending an appeal on the first rent repayment order.
---
23 June 2021
The Upper Tribunal returned a decision on the appeal they heard about the rent repayment order and increased the award to 80% of a year's rent – £22,500! The court then added costs taking the total owed to £23,760.
The judge said "the Landlord's business practices involved a systematic or institutional neglect of regulatory requirements".
There are rent repayment orders worth £480,000 against John Christodoulou's companies that have been waiting on this verdict and will be heard soon.